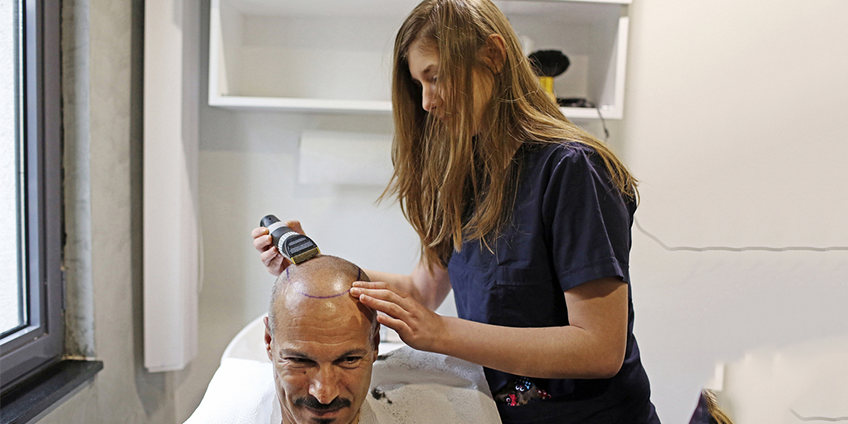 Hairs play a major role in altering the look of a person completely irrespective of gender. You cannot think of going bald at any point in your life. Hair transplants have proven to be a lifesaver to those who suffer from hair loss and other hairs related issues. If you are facing the same issue and want to get a hair transplant but are worried about the consequences here are the benefits of hair transplant.
Your beautiful hairs restored
People who have done the procedure of hair transplant got rid of their baldness. There are no adverse effects of hair transplants and you will regain your lost hair naturally. Many times people tend to lose their self-confidence when they begin to lose hair they feel awkward in front of people. But after hair transplantation, you will not be the same person anymore and your appearance will be enhanced by your beautiful hairs.
A solution to your hair loss woes
If you want to permanently get rid of baldness forever you should go for hair transplant. This procedure is not only harmless but also provides a permanent solution to your hair loss woes. For your procedure, you must always consult the best hair transplant expert who can analyze and do the hair transplant perfectly.
Say goodbye to baldness
Both men and women face the issue of baldness it can either be hereditary or due to some underlying health condition. Lack of proper diet is also one of the reasons for hair loss in particular areas of the head. A hair transplant can help you say goodbye to baldness and promote natural hair growth. Your hairs will have its natural color and texture and no one will ever notice that you have done a hair transplant.
Maintenance
Many people believe that after the procedure is done you have to use tons of products to protect your hair from further damage. But contrary to that you can just do the regular maintenance work as you used to in your natural hairs you do not have to change anything. Hair after hair transplant actually need lesser maintenance and will never cost you much. This is an added advantage after getting beautiful hair.
Cost-effective
Unlike other procedures hair transplant will cost you less and you can save up on the doctor visits. It is just a one-time investment, you can just relax after that and let your hair grow. You do not have to do multiple procedures or visit the doctor for any other consultation. You will not face any side effects plus you will get your own natural hairs growing. You just have to maintain it by washing your hair at regular intervals.
This will not burn a hole in your pocket and you can be assured of its efficacy as many people have reaped the benefits of hair transplant. The benefits that are mentioned are based on the results on people who have already done it so, you can leave your fear aside and greet your new hairs!
Related Blog