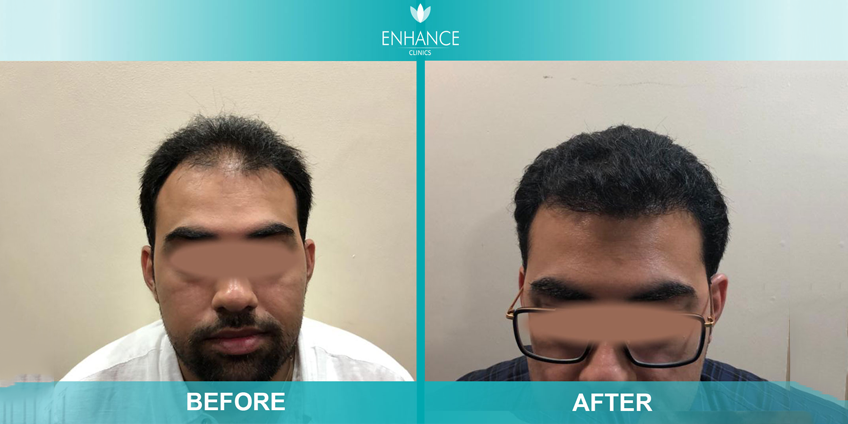 The most reliable and permanent treatment for hair loss and balding is a hair transplant procedure. A hair transplant technique that has gained preference over the years for its effectiveness is Direct Hair Restoration (DHR).
Since a hair transplant is a life-altering decision, a common question that we are asked is about the DHR Hair Transplant Cost in Mumbai. At Enhance Clinics, we know that hair loss can be a nightmarish experience. Therefore, we offer transparent hair transplant packages to help you feel confident again.
How is the DHR Hair Transplant Cost in Mumbai Calculated?
DHR Hair Transplant, sometimes called DHT (Direct Hair Transplantation), is an advanced and painless procedure at Enhance Clinics that offers healthy and natural-looking results. When it comes to calculating the DHR – DHT Hair Transplant Cost in Mumbai, the following factors are taken into consideration:
Cost of DHR Implanter: DHR Implanter is a specially-made tool that helps move the hair follicles directly from the donor to the recipient area. It's a single-use and can only be used for a single patient.
Number of Grafts: The greater the extent of your balding, the more grafts will have to be transplanted. Since hair transplants are priced on a per graft basis, the cost will rise as the number of grafts required increases.
Doctor's Expertise: DHR procedures require skill and precision. An experienced doctor can ensure successful results, but their cost will also be higher. It's worth noting that hair transplants are a one-time investment and worth the value.
Clinic Reputation & Facilities: A reputed clinic will provide the best treatment and care to its patients. In addition, a good clinic will also have modern facilities and advanced equipment. However, higher quality standards and availability of infrastructure come with premium charges.
Some other factors that might also influence the DHR – DHT Hair Transplant Cost in Mumbai include the number of sessions required, irregularities in the transplant area, type and texture of hair, donor area choice, and the Clinic's Location.
What is the Estimated DHR Hair Transplant Cost in Mumbai?
Direct Hair Restoration (DHR) is an advanced hair transplant technique that offers various advantages over other methods. It is virtually painless, requires no stitches, and has a quick recovery, allowing you to return to your daily routine in little to no time.
The DHR or DHT Hair Transplant Cost in Mumbai varies from patient to patient as well as clinic to clinic. DHR Hair transplants in Mumbai start at Rs. 40,000/- and can go up to Rs. 1,00,000/- or higher, depending on the mentioned factors. The average per graft cost for a DHR hair transplant ranges between Rs. 35 to Rs. 60.
Enhance Clinics has well-trained hair transplant surgeons who are experienced at DHR procedures and can deliver satisfying results. Our state-of-the-art clinics are equipped with modern technology, and we make no compromise in quality and care.
Book your consultation and get the best transparent estimate for your DHR Hair Transplant Cost in Mumbai.
Related Blog