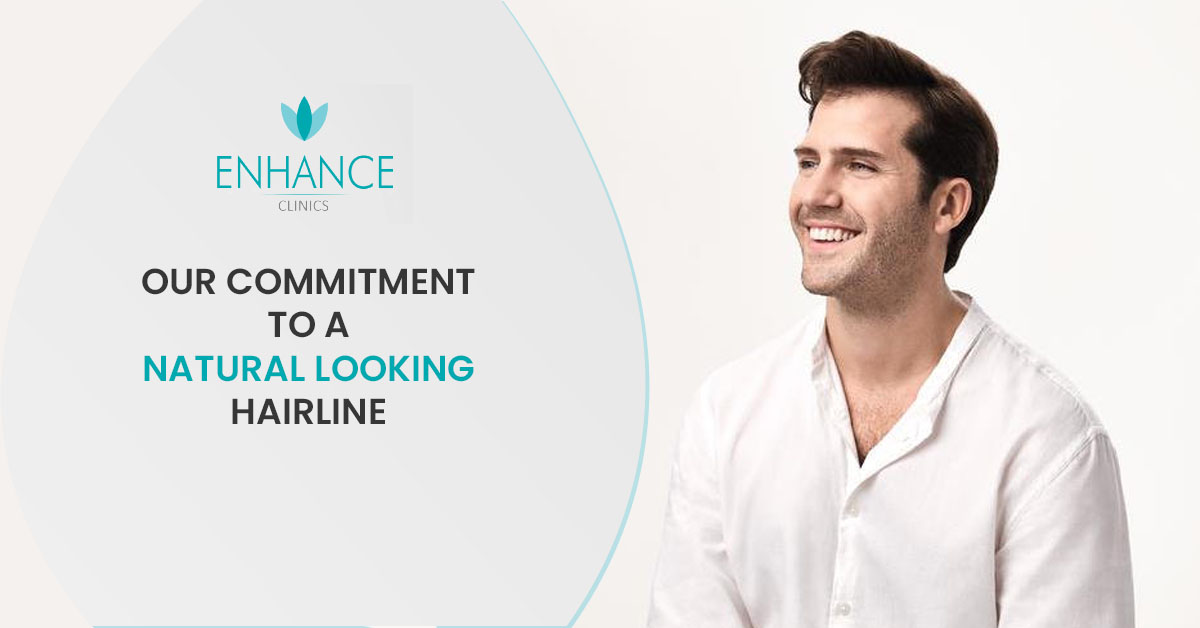 Is hair loss giving you stressful days and sleepless nights? Is your receding hairline taking away your confidence? If your answer is yes, getting a hair transplant can be an excellent solution for you.
The creation of a natural-looking hairline is key to the success of a hair transplant. At Enhance Clinics, we understand the important role that a hairline plays, and we are committed to delivering natural and undetectable hairline to patients.
Our Approach to Natural Hairline Design
We believe that nature is the best teacher, and the most effective way to create a natural hairline design is to mimic your original one. With this approach, we perform hairline reconstruction procedures that are focused on ensuring aesthetic and natural results. Here are the elements that we consider to give you the best outcome:
A Soft Front: The hairline needs to look softer at the front. This natural soft effect is recreated by placing single hair follicular units at the frontmost row of the hairline.
The Starting Point: Your hairline serves as a frame for your face. If placed too high or too low, it will look unnatural. That is why we consider it crucial to determine the right starting point for a natural appearance when designing the hairline.
Hairline Undulation: The key to a natural hairline is to create a front that is contoured with undulations. The hairline flows inwards and outwards along its curved shape across the forehead. It helps develop the perception of a natural hairline.
Micro and Macro-Irregularities: Though the hairline looks quite uniform at first glance, careful observation reveals that the natural hair placement has certain micro and macro-irregularities. The hair along the hairline grows at random unequal distances and in an asymmetrical zig-zag formation. When constructing your hairline, we take care of all these micro and macro-irregularities to ensure a natural look.
Variable Thickness and Density: Hair grows in different thicknesses and densities in different zones across the hairline. The frontal area has a soft touch, and the hair density gradually increases as we move towards the posterior region. Our hairline reconstruction process involves using hairs of varying thicknesses and a progressing density to recreate the natural hairline texture.
Angle and Direction: Every hair on our scalp grows in a particular angulation and direction. This pattern and angulation of natural growth should be followed during the implantation of grafts to ensure a successful hairline restoration.
Island Hairs: Island Hairs are individual hairs that are not a part of your hairline but are randomly scattered around it. These "Island Hairs" give an authentic feel to your hairline and are requisite if you want the perfect natural look.
Individual Features: When designing the perfect hairline for you, we consider factors such as age, gender, hair type, and facial profile. A hairline that is age-inappropriate will appear odd. In male hair transplantation procedures, the hairlines are generally designed in U, V, or M shapes. The gap between your eyebrows and your hairline should also be optimal.
Achieve a Natural Looking Hairline with Enhance Clinics
Hair loss and pattern hair baldness can have a negative impact on your personal, social, and professional life. Therefore, we are committed to providing best-in-class hair transplants using advanced techniques like FUE, DHR, and Micro Sapphire DHR that guarantee natural-looking and long-lasting results for our patients.
At Enhance Clinics, our qualified hairline reconstruction experts combine their surgical and artistic skills to design hairlines that are completely natural, undetectable, and aesthetic. Get your hair, your smile, and your confidence back. Schedule a consultation with Enhance Clinics today.
Related Blog