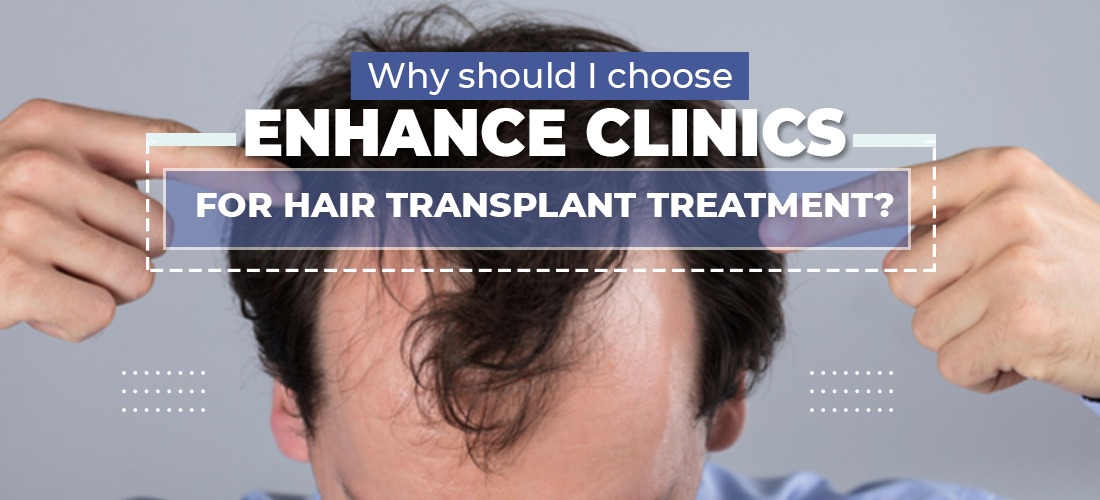 Hair transplantation has emerged as a boon for people who are struggling with hair loss and pattern baldness. However, as hair transplant procedures require considerable time and money, you should consult only the best hair clinic, like Enhance Clinics, to ensure that you get long-lasting results. Enhance Clinics is a leading hair transplant clinic known for providing high-quality hair transplants with remarkable results to thousands of people around the world. Here's why you should consider choosing Enhance Clinics for your hair transplant:
Legacy of Excellence: A clinic of international renown, Enhance has earned its reputation as a centre of excellence in the field of hair transplantation, hair restoration treatments, and other cosmetic procedures. With more than 27 years of experience, the clinic has emerged as the best hair clinic, highly preferred for its world-class treatments and natural results.
Experienced Surgeons: Enhance Clinics has a team of the best hair transplant surgeons in Delhi. The doctors at Enhance are competent, well-qualified, and carry decades of experience in performing hair transplant procedures with high success rates. Bringing their vast expertise, flawless technique, and artistic vision to each procedure, they deliver the most satisfying and natural-looking results to the patients.
Safe and Effective Treatments: As a reputed hair transplant clinic, Enhance Clinics offers a complete range of safe, scientifically proven, and effective hair transplant treatments. The clinic specializes in the latest and most advanced techniques like FUT, FUE, DHR, and Micro Sapphire DHR. They also provide Hairline Reconstruction, Body Hair Transplant, Facial Hair Transplant, and Failed Hair Transplant Repairs.
State-of-the-Art Facilities: The clinics of Enhance have state-of-the-art infrastructure and facilities. They are equipped with leading-edge technology, modern equipment, and various amenities to help give the best kind of treatment to patients. The team also operates at the highest possible of safety, care, and hygiene to make sure that the patient feels comfortable and relaxed.
Trained and Professional Team: While the best hair transplant surgeon in Delhi ensures the success of your procedure, the assistants, technicians, and other clinic staff members also play a role by taking care that everything goes as smoothly as possible. The team at Enhance Clinics are highly-qualified, well-trained, and compassionate people who will take care of you all the way through
Personalized Treatment & Top-Notch Care: Enhance Clinics adopts a personalized approach to every patient's treatment to ensure the best possible results. The team works diligently to provide complete care and comfort in every way. You will also receive post-operative care and guidance for up to a year. Natural Results: With modern hair transplant techniques at Enhance Clinics, you can regain healthy, undetectable, and natural-looking results with excellent density and coverage.
Final Words
If you are looking for the best hair transplant clinic, your search ends here. The experts at Enhance Clinics have helped thousands of people regain their lost hair and youthfulness with high-quality hair transplant treatments. Book a zero-obligation consultation today and begin your journey towards confidence!
Related Blog