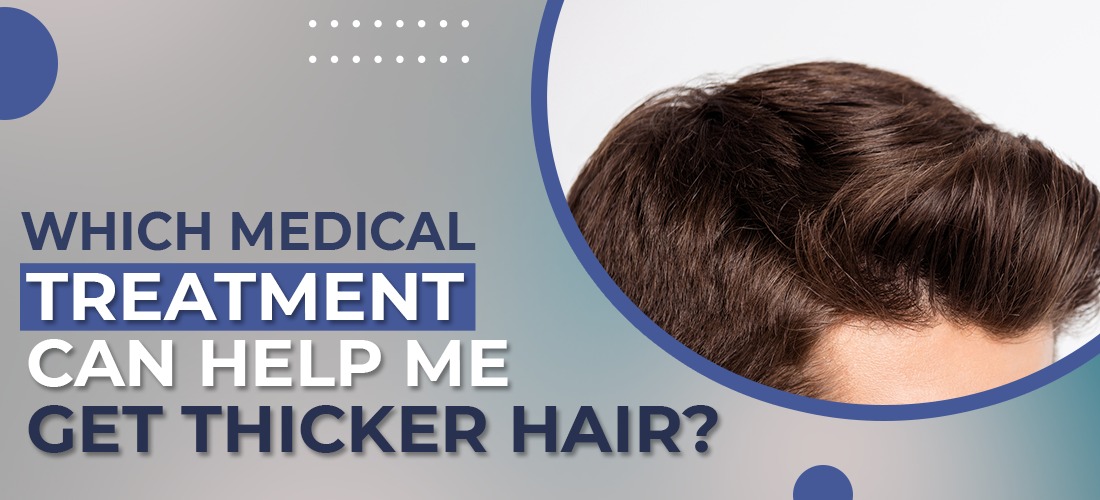 Hair thinningis a problem that many men and women have to face in their lifetime. Thinning and loss of hair can be pretty bothersome.If you're looking to get thicker hair, the best way is toconsult your dermatologist or hair transplant surgeon in India.

There are medical treatments that can promote hair growth and give you your thicker hair back. Let's have a look at your options:
Medication:
Minoxidil and Finasteride are both effective and commonly recommended by the best hair clinics for hair loss.

Minoxidil is an OTC topical solutionthat increases the flow of oxygen and nutrients to the scalp, thereby nourishing the follicles and making them thicker. On the other hand, Finasteride is a prescription pill that blocks excess dihydrotestosterone, the hormone behind hair loss, thus helping stop hair thinning and boosting growth.

If the medicines work for you, you'll need to continue taking them indefinitely to keep hair loss in check.
PRP Therapy:
PRP therapy is yet another popular hair loss treatment. It involves taking a small quantity of your blood, placing it into a centrifuge to separate theplatelet-rich plasma, and injecting this plasma into the area affected by thinning and hair loss.

The Platelet-rich plasma contains growth factors that help thicken your hair follicles and promote hair regrowth. The treatment requires multiple sessions spread over a few weeks, followed byinjections once every six months to maintain results.
Hair Transplant:
A hair transplant is a proven, successful, and effective treatment for hair loss, thinning, and baldness.

In this procedure, your hair transplant surgeon will extract hair follicles from the part of your scalp with abundant growth and transplant them to areas facing thinning or balding.Getting a hair transplant in Indiais an excellent option as it can give you long-lasting results.
Conclusion
In most cases, you can tackle hair loss and regain your hair strength and thickness with the right medical treatments. Speak to an experienced dermatologist at the best hair transplant clinic and begin your journey to fuller and thicker hair.
Related Blog