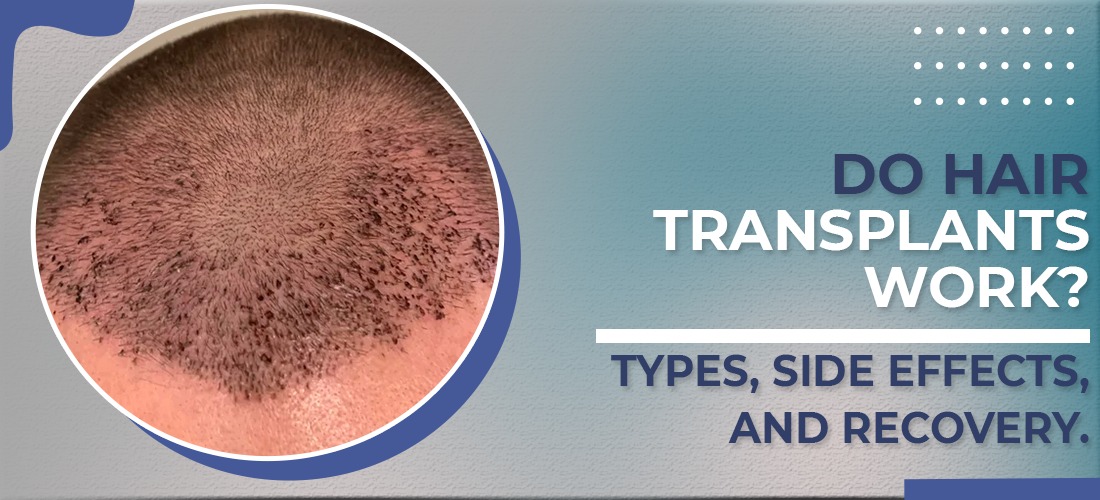 Hair loss and pattern baldness have become common concerns today.If you are also struggling with hair loss, undergoing a hair transplant in India can help restore hair to your scalp. However, as it's a costly surgical procedure, it's natural to worry about whether it will work or have questions about side effects and recovery.

In this article, we will look at whether hair transplants work and learn about their types, potential side effects, and the recovery process.
Do Hair Transplants Work?
Hair transplants are proven and effective procedures that can help restore hair on your scalp.Thehair extracted from the donor area is resistant to DHT, the hormone responsible for hair loss. Once thesefollicles are transplanted to the recipient area, they retain theirresistant properties and continue normal growth.

In any case, the success will also depend on your surgeon's skill and expertise. The best hair transplant surgeon in India can provide the highest success rates and deliver the most natural-looking results.
Types of Hair Transplant in India:
• Follicular Unit Transplantation (FUT):The method involves extracting a thin strip of hair-bearing skin from the donor area. The strip is dissected into individual follicular units, which are then prepared and implanted in the recipient area.
• Follicular Unit Extraction (FUE):In FUE, the surgeon uses a micro punch tool to extract individual hair follicles from the donor area, which are then arranged and embedded into the recipient area.
• Direct Hair Restoration (DHR):The DHR method utilizes a specialized DHR implanter tool that allows the surgeon to conduct simultaneous extraction and implantation of individual follicles with better control and precision.
• Micro Sapphire DHR:This technique uses micro sapphire blades for opening channels in the recipient area for implantation. Extraction is conducted using FUE micro-motors, and the DHR implanter is used to place the follicles into incisions created with sapphire blades.
The best hair transplant clinic in Delhi will help you choose the technique that will deliver the best outcome.
What are the Side Effects of Hair Transplants?
Side effects from hair transplant treatments are usually temporary and subside within a few days. You might experience:
Minor Pain & Discomfort.
Swelling &Itching.
Scarring.
Bleeding.
Numbness.
Scab formation.
Temporary thinning & shock loss.
Tightness.
Risk of Infection.
Hiccups.
Recovery After Hair Transplant Surgery:
After your hair transplant in Delhi, you will get detailed post-operative instructions, which you must follow diligently. The first few days will be crucial as your transplanted follicles will take root.

You can resume non-strenuous daily activities from the third day itself. It will take around 12 to 18 months to see your final growth results.
Conclusion
Getting a hair transplant surgery is an excellent way to regain your youthful appearance. There are fourdifferent hair transplant techniques, but they're all effective in producing natural-looking results.The best hair transplant doctor in Delhi will discuss your concerns and opt for the method that best meets your goals and needs.
Related Blog