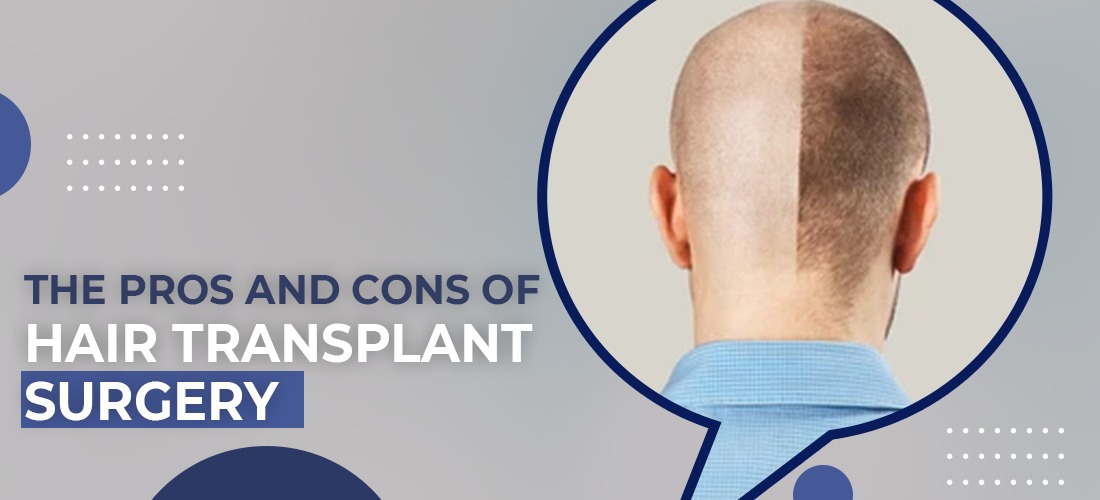 Hair transplantations have grown in popularity over the years among men and women who have been struggling with hair loss and pattern baldness. Getting a hair transplant in Delhi is an effective way to restore hair in thinning and balding areas of your scalp.

Though hair transplants can deliver successful end results, they have theirbenefits and drawbacks like any other surgical procedure, which you should know about when you visit the best hair transplant clinic in Delhi. Let's get you acquainted with the pros and cons of hair transplant surgery.
Pros of Hair Transplants:
Natural Results: During a hair transplant, the surgeon transplants your own hair follicles from one area to another. This means that your transplanted hair will grow and look completely natural, just like the rest of your hair
Long-Lasting Results: Hair transplants are advanced cosmetic procedures that can providepermanent growth. Once you get a hair transplant in Delhi, your transplanted hair will last a lifetime.
Little Downtime: There's minimal downtime associated with hair transplants. You can resume your everyday activities in just a few days.
Cost-Effective:Though non-surgical treatments seem more affordable, they require continuous treatment or maintenance, which becomes unfeasible in the long run. Contrarily, hair transplant cost in India is a one-time investment that provides permanent results
Improved Appearance:Hair transplantscan give you a more youthful appearance, helping you increase your confidence and self-esteem.
No Special Treatments Needed: Once your recovery phase is over, you don't need to undergo any special treatment or use any special products to maintain your transplanted hair. You can cut, trim, colour, or style it however you want
Cons of Hair Transplants:
Strict Aftercare: You must follow post-operative guidelines with care and attention. Though most people return to a normal routine within a few days, you will have to follow the aftercare instructions properly during the recovery period to avoid risks of infection and graft loss.
End Results Take Time:Hair transplant results don't appear overnight but require patience. Your final results may take anywhere between 12 to 18 months.
High Cost:The hair transplant cost in India is relatively expensive. Though cost-effective in the long run, the upfront amount may not be affordable to everyone. Fortunately, some hair clinics offer EMI options for easier financing.
Side Effects & Risks:Yet another downside is that side effects may occur in the initial weeks after surgery. This includes pain, discomfort, swelling, itching, numbness, etc. Moreover, choosing an unqualified and experiencedsurgeonputs you atrisk of post-op infection and graft failure. It's preferable to choose the best hair transplant doctor in Delhi for your procedure.
The Bottom Line
Like any other treatment,a hair transplant surgery has its pros and cons as well. To ensure the most satisfying results, you should consult onlya reliable hair transplant clinic for your treatment. With a qualified surgeon and in-depth support, you can get the best hair transplant in India easily.
Related Blog